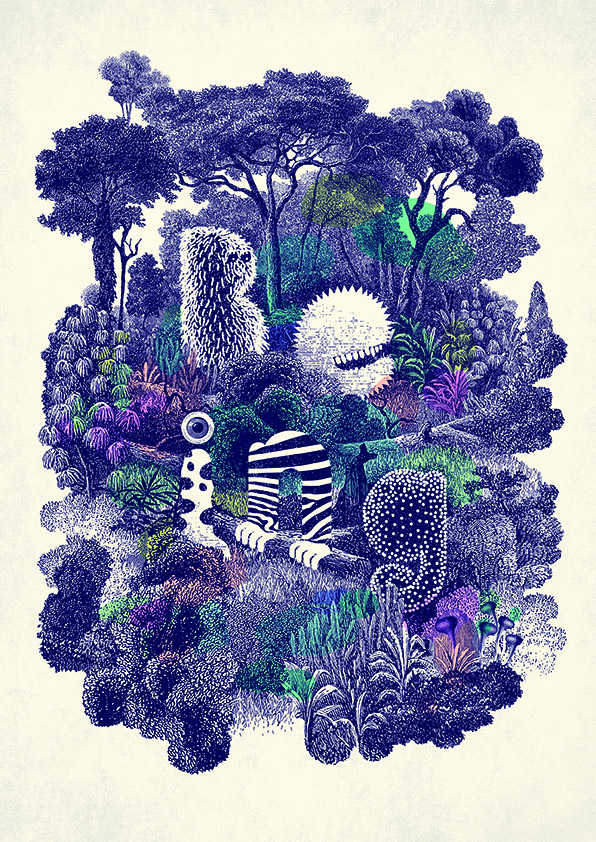 oday's visit to London's Somerset House was essentially a day for thinking about all things Illustrative. On what had to be one of the most glorious of October days we went to the AOI World Illustration Awards 2015, previously known as 'Images'.
The mission: We wanted to point out to our students that Illustration can be many things and that it comes in many forms. That might sound like a fairly obvious thing to say, but I am still slightly surprised by just how many people say that they can't draw and therefore they'd be no good at illustration. There seems to be a preconceived notion that all illustration is based on being able to draw like an Old Master. Of course some form of ability to draw is useful—and it could easily be argued as being essential—and I would never play down the benefits of the ongoing practice of observed drawing, as this is a way to noticeably improve ways of seeing and recording; to develop a style of visual voice; seek visual themes of interest and discover what tools and materials you respond to and enjoy using. Even the benefits of casual doodling can lead to many a new idea. I could go on.
This year's exhibition was a true smorgasbord of illustrative voices and we simply let the students explore the exhibition set with a task of writing their own review using some prompts for discussion. The feedback was great and it was interesting to see what styles of image making were attractive to individuals and the ensuing points of discussion.
I found the exhibits were excellent as was the variety of styles present. I was particularly taken by the illustrations of João Fazenda that were centered around Japanese folklore (immediately below). The echoing of traditional Japanese artistic simplicity came through and both the lively quirkiness of the images and the wonderfully  simple colour combinations worked so well as a striking collection.
I was also struck by the incredible paper constructions by both Gail Armstrong and Sam Pierpoint, that latter producing the most incredible skull of waves crowned with a ship. Entitled 'El Jimador Skull' this formed part of a contribution to celebrate The Day of the Dead. As well as the compositions I find the engineering simply fascinating.
Andy Ford's 'Cel-EGG-Rities', painted eggs of celebrity faces were simply brilliant, as was the use of Twitter that helped to generate suggestions for them. (See John & Yoko below)
For both technique, message and depth of meaning many were drawn to the poignant works of Olivier Kugler whose illustrations drew attention to the plight of Syrian refugees and their ability to live through adversity. The simple style of drawing and colour, peppered with hand rendered typographic messages gave a sensitive and personal voice to the topic.
In short, I found the perfectly curated collection simply brilliant. The quality of work was incredible and as a means of introducing some of our students to the wider world of illustration it was great. To round the day off we issued each student—tutors too!—with a blank postcard and asked for the card to be illustrated with an image or text of their choice; simply something connected to their day in London. The cards came in and we posted them as the 9th October was World Post Day and perfectly timed with our illustratively themed day.
The exhibition ends  1 November 2015. Anyone with a passing interest in graphic arts should not miss this exhibition.
[print_gllr id=4421]